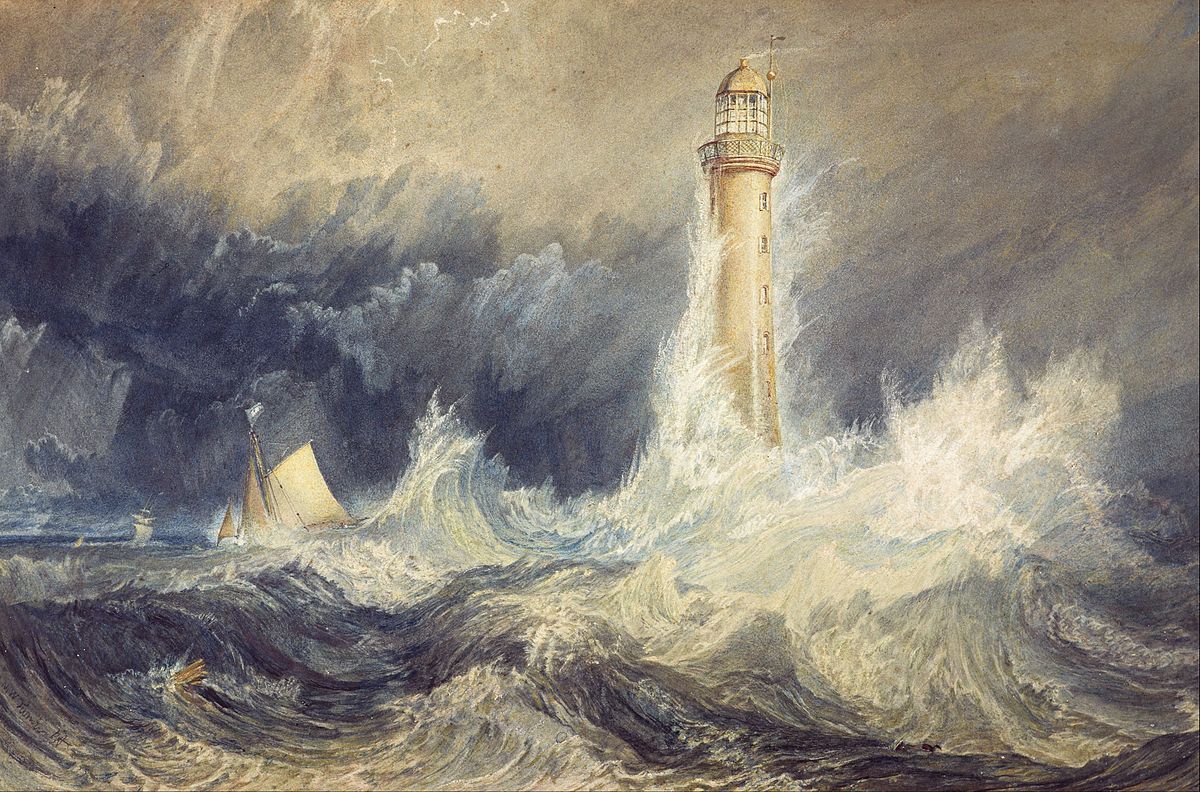 It is indeed a light in a dark place
The lights have gone on, and off, continuously, at Bell Rock Lighthouse for over 200 years.
It sits on a small rocky reef twelve miles off the east coast of Scotland, where the waters of the Firths of Tay and Forth tumultuously converge. Partially submerged, the rock was a notorious place for shipwrecks until, in one of the most impressive engineering feats of the age, the lighthouse was finished in 1811. The designer was Robert Stevenson, who, together with his sons, built most of Scotland's lighthouses. He personally was responsible for 25 of them, and this was his most complex challenge.
Bell Rock is the world's oldest surviving sea-washed lighthouse.
———————————————————
Dawn, Tuesday 2 May 1865. The writer RM Ballantyne is on day four of his fortnight's stay on Bell Rock lighthouse. He has risen at five o'clock to paint the sky, taking advantage of low tide to set up his easel. From midday the waves will cover the rocks and restrict him to staying within the thick walls of the six-storey building, along with the three lighthouse keepers, Joseph Agnew, William Wither and David Laidlaw. Each of them works six-week stints on the rock, alternating with two weeks' leave.
The keepers have their 'roomy berths' on the fourth floor, where Ballantyne notes they have also kept an apple-scented geranium plant in a pot for several years. Below them is the kitchen, 'clean and admirably arranged' with a coal-fired grate for cooking and a pump to draw water from the tanks below.
Ballantyne occupies the fifth floor: an oak-lined library furnished with a Turkey carpet, a bookcase, and a marble bust of Robert Stevenson. This room is where the Commissioners of the Northern Lighthouses are received when they visit to inspect. In 1814 the inspectors were accompanied by Sir Walter Scott, who wrote some lines of verse about Bell Rock. A painting by Turner, made five years later, demonstrated the powerful draw that this engineering marvel exerted at the time. Its enduring fascination is what has brought Ballantyne to make the risky journey over the North Sea fifty years later.
In the two weeks he spends here, first arriving at 2am on the Saturday, he sees Bell Rock at every hour of day. He sketches, paints and makes notes: on the activities of the men, on the wildly-varying seascape surrounding them, and on the birds and fish that they encounter on this isolated skerry.
One breakfast time they are visited by a dishevelled 'tomtit', evidently lost in the fog that surrounds them that day. It warms itself and flies away again. The men have stories of thousands of disorientated land birds who take refuge or find their way to the lighthouse, especially in foggy weather. So many blackbirds, thrushes, larks, crows and owls have sometimes been drawn in by the tower's lantern that the air has seemed darkened by them. 'They sit on the sills of the lantern windows and peck at the glass, trying to get in to the cheerful light,' writes Ballantyne. 'Poor little things! It is comforting to know that when morning comes they usually take flight for the shore.' Not all the birds are as fortunate – the men occasionally catch them to supplement their diet. Ballantyne is much more tender-hearted, one day trying unsuccessfully to revive an exhausted swallow. 'I warmed it at the fire, gave it a drink of water out of my mouth, and put it in a cupboard with some crumbs and water.' William Wither suggests he should instead kill it and stuff it.
Curiously, the writer notes very few seabirds, saying the larger birds tend to stay away. During a great gale towards the end of his visit he sees an apparently wounded great northern diver 'struggling up against the waves and being again overwhelmed…it was closely attended by a gull. A solan goose (gannet) soon after joined the gull, and all three were quickly out of sight.'
He is fascinated by a type of sucker fish, barrel-shaped and covered in spikes, which fastens itself to the rock pools. The men call it a paddle and one day he catches one of the fish, lays it on a rock, and, encouraged by Withers, quickly sketches it, 'giving him a dip once or twice to refresh him, after which I put him back into the water, and he swam away as leisurely as if nothing whatever had happened!'
Other fish can be caught off the rock in summer, but currently it is too early in the season. The lighthouse keepers manage to buy some codling and 'poddlies' (pollock) from a visiting fishing boat which drops off some mail – much to Ballantyne's delight. 'News from home! I had not heard of the outer world since Friday last. Three days – it seems an age in these times of steam and telegraph!'
Over the last two days of his stay a gale arrives and there is an extraordinary animal sighting in the stormy sea: 'Agnew got a fright to-day by seeing what he imagined to be a man. It turned out to be a seal with a large white skate or turbot in its mouth, which at a distance looked like a man's naked shoulders.'
Exercise and painting is carried out when the tide allows, and therefore at varying times, so over the fortnight Ballantyne experiences most of the hours of the day outside, and most weathers too. Even during the warm and sunny first few days he is amazed at the scale of the large green breakers that crash against the tower with a tremendous shock, causing him to wonder how it withstands real storms. Two days later the sea is 'calm like a sheet of glass.' As soon as the tide permits – not until 3pm on that particular Friday – he goes out on the reef to collect seaweed and shells.
Then follows fog. In these conditions, sound has to take the place of Bell Rock's revolving light. Instead of the lantern – twenty-four parabolic reflectors, each lit by an argand or oil lamp, in a four-sided frame that turns and flashes every two minutes – passing ships and fishing boats have to rely on the clang of great bells. These are moved by a rope attached to the same clockwork mechanism that makes the lantern revolve. Their 'solemn knell' sounding out every half-minute keeps Ballantyne awake all night.
Nevertheless, he is constantly in awe of the place and its role. One night he takes a moonlit walk: 'It felt romantically dismal to stand above the rock, not yet visible, which has cost so many lives in days of old; and it was satisfactory to look up at the tall column and see the bright light blazing on the summit, giving guarantee that there shall be no more wrecks there now. It is indeed a light in a dark place.'
He has few further opportunities to experience the rock at night. After the fog, a gale arrives. An attempt to pencil-sketch the heightening waves at low tide ends when he is nearly blown away. The waves rise to fifteen feet, with 'acres of pure white foam round the tower, especially to leeward, where the ocean resembles milk.'
Ballantyne leaves Bell Rock a day later than expected, after a hair-raising attempt by a relief-boat to reach them fails, as 'monster billows' overwhelm the rock and threaten to break the vessel in half. The boat and its crew retreat to Arbroath. The men of the lighthouse were concerned that its repeated and determined attempts to land presaged bad news from their families ashore. Earlier the previous year William Wither had experienced receiving the news that his only child was ill. After waiting nearly a week for a boat, he learned once he got ashore that the child had died two days previously.
The seas calm the following day, and Ballantyne and Wither are soon on board the relief-boat heading for shore. The writer declares that he has had a pleasant sojourn. His respect for the work of the men and the power of the sea stays with him.
I did not think that any building made by man could have withstood the terrific sea that has been swirling and roaring round and pounding against us. I never tire of looking at the waves, and always wish that they were bigger, although they are giants to anything I have ever seen on any shore.
He goes on to write an adventure story for young people called The Lighthouse – one of over a hundred books he is to write in his lifetime. He continues to paint, and some of his watercolours are exhibited at the Royal Scottish Academy.
© Laura Parker
Ballantyne's full account:
http://www.bellrock.org.uk/misc/misc_ballantyne.htm
More about Bell Rock: